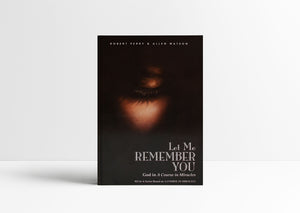 By Robert Perry and Allen Watson
170 Pages
Paperback
The topic of God is central in A Course in Miracles. In the Course, God is everything. He is our Source and our home. All our suffering comes from our sense of alienation from Him. He is also our goal. One day all our sorrows will end in His embrace. In the meantime, beyond our awareness, we remain united with Him in a state so wonderous that words cannot begin to capture it.

Little attention, however, has been given to the subject of God by most Course students. It is easy to get the impression from the Course that God is too remote and uninvolved to be very relevant. Moreover, many students are still trying to escape the fearful images of God on which they were raised. This book is designed to remedy this overall situation, to help you gain, perhaps regain, a sense of God's relevance and immediacy.
Topics addressed include: The Course's correction of traditional concepts of God, how to relate to God, prayer, meditation, and revelation, God walking with us, and what God knows about our current condition.