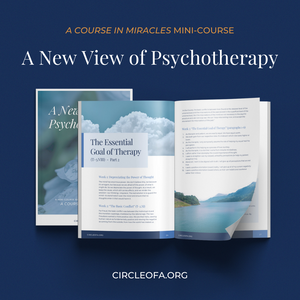 A Course in Miracles has a markedly different approach to psychotherapy than the conventional view. It teaches that therapy is exactly the same as other forms of miracle-working and must, therefore, proceed from miracle-mindedness. We have the ability to "stop miscreating now, and accept the Atonement for miscreations of the past." The Course asks that we realize we cannot be hurt, refuse to side with anyone's misperceptions of us, and then demonstrate they have not hurt us.
This mini-course will go over the following:
the enormous power of the mind
the basic conflict between love and the miscreations of the past
the roles of patient and therapist according to the Course
how the essential goal of therapy is the same as that of knowledge
Your purchase includes 4-hours of video instruction from Robert Perry and Emily Bennington, plus an accompanying 33-page full-color booklet that highlights key concepts and lessons, and offers practical exercises to help you apply and experience the teaching. It also includes space for you to take down your own notes and insights, whether you print your copy, use it as an ebook, or annotate it in conjunction with an app such as Goodnotes or Evernote.

PLEASE NOTE: This listing is for the downloadable mini-course (four classes) PLUS the accompanying booklet.

*The mini-course and ebook content reference the Complete and  Annotated Edition of A Course in Miracles, which you can find here: https://coa-store.org/collections/books/products/a-course-in-miracles-complete-and-annotated-edition.