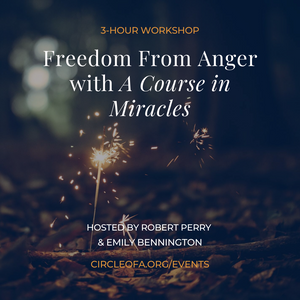 How should we regard our anger? Is it a healthy, constructive emotion that evolution equipped us with for a reason? Is it the force that allows us to break through old barriers and overcome injustices? Or is it a shameful emotion that we need to keep a lid on?
These questions are vital because every day we have to decide what to do with our anger. The Course's answer to the above questions is "none of the above." It wants to free us from an emotion that has wreaked havoc in our minds as well as our lives. Indeed, there are better ways to relate to others and there are more effective ways to change the world.
Join Robert Perry and Emily Bennington as they present this important workshop on the teachings and tools in A Course in Miracles related to anger.
Purchase includes: 
3-hour recording for your records.
Handouts covering major themes and teaching notes.