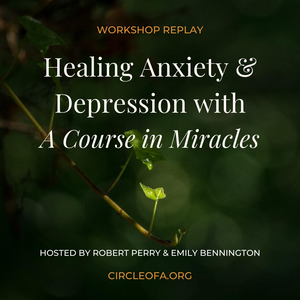 A Course in Miracles has a great deal to say about anxiety and depression, with 40 references to anxiety and over 60 references to depression. Through these references, the Course weaves an entire thought system around each one. 
Both depression and anxiety can be cured because they are ultimately without foundation in reality. The beliefs they are based on are false. Undoing those beliefs, then, is the long-term cure for both depression and anxiety.
In this workshop, you will learn more about:
The apparent causes of depression and anxiety
Their real cause according to the Course
Practical solutions for healing both, and more.
Purchase includes: 

3-hour recording for your records.
Handout covering major themes and teaching notes.