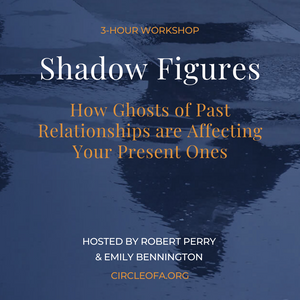 "Shadow figures" is the term in A Course in Miracles for the images we carry of people from our past who didn't give us the love we craved. These "ghosts" haunt our present. We project them onto individuals in the present, so that we relate to those present individuals as if they were the ghosts from the past. No wonder our relationships don't work!
This is obviously an ineffective way to wrap up our unfinished business. It means that we are not dwelling in the aliveness of the present but, rather, we are perpetually living in the dingy attic of the past, alone with our shadow figures.
How can we break free from past relationships so that we can fully give ourselves to present ones?
In this workshop, we cover:
What shadow figures are

How they guide our search for love

How we try to extract from current partners the love we didn't receive from past relationships

The cost of carrying the burden shadow figures with us

How we can free ourselves from the past and enter into real relationships in the present
Join Robert Perry and Emily Bennington as they present this important workshop on the shadow figures of our past.
Purchase includes:
3-hour recording for your records.
Handouts covering major themes and teaching notes.
This is a digital product.