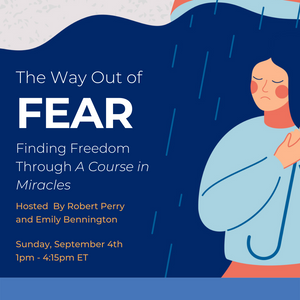 Sunday September 4th 
1pm - 4.15pm ET 
"Everyone experiences fear, and nobody enjoys it." Could these words from A Course in Miracles be any more true? Fear is an emotion that undermines all of us, draining our strength and ruining our peace.
Thank goodness, then, that the Course contains extensive teaching on fear—on its cause and its solution. We tend to believe that fear is caused directly in us by outside events, and that the only way to dispel it is to master our fear and assert our personal power to deal with those events.
But there is another way. The Course teaches that our fear is entirely caused from within, by how we choose to think. This means that complete freedom from fear within our reach. All we need to do is train our minds to think differently.
In this workshop, we will look at:
What fear is
What causes fear
How the Course counters conventional views of fear
The solution to fear
Practical exercises to dispel fear
The workshop will be simple in its focus, but will rest upon the Course's 1200 references to fear. Please join us. It's okay, don't be afraid. :) 
Purchase includes: 

3-hour recording for your records.
Handouts covering major themes and teaching notes.