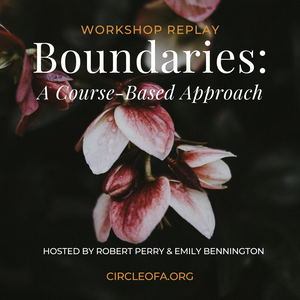 A Course in Miracles has some surprisingly direct things to say about boundaries. It brings both kindness and clear lines together into a higher synthesis that will cause us to rethink everything we thought we knew about this topic.
In the Circle's first-ever workshop on boundaries, Robert Perry and Emily Bennington share what the Course itself teaches on the subject, but also how Jesus taught Course scribes Helen Schucman and Bill Thetford to navigate common boundary issues, including:
How to set a boundary with someone you have tried to help
What to do when overwork reaches a point of affecting health
How to deal with "the demands of the dependent"
How to communicate a boundary without hostility or embarrassment
Purchase includes: 

3-hour recording for your records.
Handouts covering major themes and teaching notes.