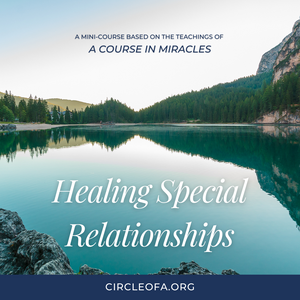 A Course in Miracles does not tell us to destroy our special relationships but to transform them. The point is not to eschew all human relationships but to enter into them and use them as classrooms in learning love.
The topic of special relationships is introduced in Chapter 15 and extends with much discussion to about halfway through Chapter 17.
In this mini-course on Healing Special Relationships, you will learn the following:
what the special relationship is and what it is not
the meaning of love according to the Course
how the ego uses the special relationship to keep itself in place
what we need to do to learn how to love and transform our relationships
Your purchase includes 4-hours of video instruction from Robert Perry and Emily Bennington, plus an accompanying 30-page full-color booklet that highlights key concepts and lessons, and offers practical exercises to help you apply and experience the teaching. It also includes space for you to take down your own notes and insights, whether you print your copy, use it as an ebook, or annotate it in conjunction with an app such as Goodnotes or Evernote.


PLEASE NOTE: This listing is for the downloadable mini-course (four classes) PLUS the accompanying booklet, and the bonus video.
*The mini-course and ebook content reference the Complete and Annotated Edition of A Course in Miracles, which you can find here: https://coa-store.org/collections/books/products/a-course-in-miracles-complete-and-annotated-edition.