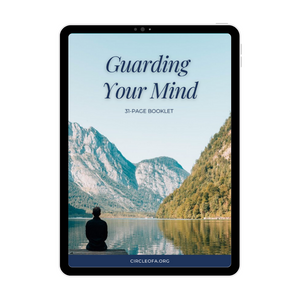 A Course in Miracles teaches that the mind is incredibly powerful and that, as miracle workers, we need to guard our minds at all times.
This beautifully designed 31-page PDF booklet on the theme of Guarding Your Mind draws much of its content from Chapter 2 of the Text of A Course in Miracles*, teaching you how to: 
Watch your thoughts

Defend against errors that arise in you

Hold fast to the truth
The content in this booklet highlights key concepts and lessons from this material, and offers practical exercises to help you apply and experience the teaching. It also includes space for you to take down your own notes and insights, whether you print your copy or use it as an ebook, or annotate it in conjunction with an app such as Goodnotes or Evernote.
PLEASE NOTE: This listing is for the booklet only. If you would like to download the booklet PLUS 4 hours of accompanying teaching please see the listing for the Guarding Your Mind Mini-Course: https://coa-store.org/collections/programs/products/guarding-your-mind-mini-course.
BEST VALUE: Access to ALL mini-courses, plus so much more, is included with Course Companions membership. Learn more at http://coursecompanions.com.
*This ebook is fully referenced to the Complete and Annotated Edition of A Course in Miracles, which you can find here: https://coa-store.org/collections/books/products/a-course-in-miracles-complete-and-annotated-edition.