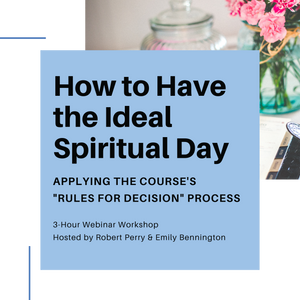 "Rules for Decision" is a well-loved and very important section in A Course in Miracles. In it, we are presented with a detailed, practical picture of how to have what might be called your "ideal spiritual day." There are several elements to this picture, and they all fit together perfectly. The resulting day is completely doable, and when you actually apply the process as outlined in the Course, it works. You will have a qualitatively different kind of day.   
In the first half of this online workshop, Circle Founder Robert Perry and Executive Director Emily Bennington will walk you through the "Rules for Decision" section so you can get very clear on each element of the day and how they all fit together.  
In the second half, you will learn how to implement the process:  
What is your ideal spiritual day?
How should you ask for guidance?
When should you ask for guidance?
How can you keep your judgment out of the way so that you won't be afraid to ask?
What do you do when you feel resistance to asking?  
We cover these questions thoroughly so that you are fully prepared to experience the day this section outlines. 
Purchase includes:

Three hours of video content
12-page workbook 
Rules for Decision practice card template 
We hope you will join us for this webinar workshop on a truly life-changing Course practice.  
(Please allow up to an hour for delivery upon order.)