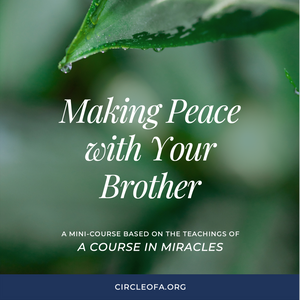 Chapters 26 and 27 in A Course in Miracles Complete and Annotated Edition (CE) address practical issues involved with forgiving our brothers. We are taught that if we will let go of our fear of joining, we can offer trusting forgiveness. And then all the benefits of forgiveness will be ours. Jesus advises that we need to identify with our wholeness and invulnerability so that we can be the living proof of our brother's innocence.
This mini-course will go over the following:
why we hesitate to forgive our brother
the meaning of ancient hate and the consequences of its undoing
why we want to be unfairly treated and how to see attack differently
how the Course teaches us that we cannot, in fact, be hurt
Your purchase includes 4-hours of video instruction from Robert Perry and Emily Bennington, plus an accompanying 34-page full-color booklet that highlights key concepts and lessons, and offers practical exercises to help you apply and experience the teaching. It also includes space for you to take down your own notes and insights, whether you print your copy, use it as an ebook, or annotate it in conjunction with an app such as Goodnotes or Evernote.

PLEASE NOTE: This listing is for the downloadable mini-course (four classes) PLUS the accompanying booklet.

*The mini-course and ebook content reference the Complete and  Annotated Edition of A Course in Miracles, which you can find here: https://coa-store.org/collections/books/products/a-course-in-miracles-complete-and-annotated-edition.