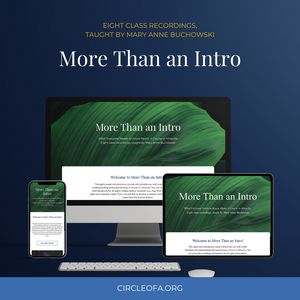 You're invited to join us for an eight-session introductory course that will provide a solid foundation for understanding and experience of the modern spiritual classic A Course in Miracles.
Throughout the course, your class recordings and handouts will focus on the radically transformative teachings of the Course and their powerful effects on our lives and our relationships. Whether you're new to A Course in Miracles, simply curious about it, or an experienced student looking to deepen your understanding, there's something here for you as we explore the fundamentals of this truly remarkable and immensely practical path of spiritual awakening.
Class 1: Introduction and Background
Class 2: The Main Characters of A Course in Miracles
Class 3: Basic Terms in A Course in Miracles
Class 4: What the Course Says About Itself
Class 5: The Anger and Attack Cycle (The Ego's Thought System)
Class 6: The Forgiveness Cycle (The Holy Spirit's Thought System)
Class 7: The Spiritual Practice of the Course
Class 8: The Course as a Complete Spiritual Path
All classes were recorded live in 2021, and feature discussions with participants. They include:
Opening quiet time, focusing on a lesson from the Workbook that fits with the class theme
Check-in: Students share insights, experiences, comments, questions arising from the previous week's class 
Teaching, including questions and comments from live participants
An exercise or lesson practice

Closing practice and prayer
To make the most of this course, it is suggested that you participate as if attending live, joining in with the exercises and practices.
Please note that you will receive access to all the recordings immediately, but you can opt in to get weekly reminders to visit the site to take the next class.
More Than an Intro Includes:
8 class recordings.
A comprehensive handout for each class.
Satisfaction guaranteed. If you're not completely happy with the program for any reason, we will gladly offer a refund.
About Your Teacher
Mary Anne Buchowski is a longtime teacher of A Course in Miracles. She has been associated with the Circle of Atonement since its founding in 1993. Mary Anne is responsible for several programs including Study Group Leader and Teacher Training and support, as well as the weekly Workbook classes for our Course Companions community. She works and teaches from her home base in Ottawa, with her husband James Gregory. Mary Anne brings to her teaching a joy and passion for the Course and a strong commitment to sharing this amazing path.