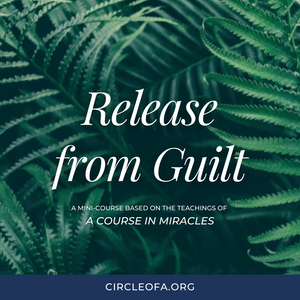 A Course in Miracles says that the undoing of guilt is an essential part of the Holy Spirit's instruction. This teaching shows up especially in Chapter 13, which is also called "Release from Guilt," and in Chapter 14.
In this mini-course, you will learn the following about guilt:
- Guilt stems from attack.
- It says "You did bad, you are bad, and you deserve bad."
- We go through four stages in relation to guilt:
"Guilt has very little place in my life."

"I am willing to uncover my guilt"
"Guilt is the source of all my pain"
"Guilt is unjustified and attack is useless."
Your purchase includes 4-hours of video instruction from Robert Perry and Emily Bennington, plus an accompanying 32-page full-color booklet which highlights key concepts and lessons, and offers practical exercises to help you apply and experience the teaching. It also includes space for you to take down your own notes and insights, whether you print your copy, use it as an ebook, or annotate it in conjunction with an app such as Goodnotes or Evernote.

Also included is a bonus video from our Course Companions Sunday Gathering called The Cult of Self.
PLEASE NOTE: This listing is for the downloadable mini-course (four classes) PLUS the accompanying booklet, and the bonus video.
*The mini-course and ebook content reference the Complete and Annotated Edition of A Course in Miracles, which you can find here: https://coa-store.org/collections/books/products/a-course-in-miracles-complete-and-annotated-edition.