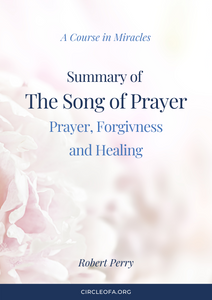 The Song of Prayer supplement to A Course in Miracles was scribed by Helen Schucman in 1977 and provides important lessons on understanding what the Course says about prayer, forgiveness, and healing. Its three chapters are comprised of 15 short sections and it is published in booklet format by the Foundation for Inner Peace. (It can also be found at the end of the Foundation's Third Edition of ACIM.)
Robert Perry and Emily Bennington delivered a series of 24 classes on The Song of Prayer that were designed to draw out the meaning as well as the practical application of this remarkable material. At the end of our journey through the supplement, Robert wrote this ebook. The ebook stands alone, however you may be interested in the class replays, which are available via our Course Companions online learning community at coursecompanions.com.
NOTE: This is a digital product.