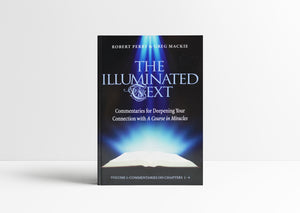 By Robert Perry & Greg Mackie
284 Pages
Paperback
Being a student of A Course in Miracles is a process of learning and internalizing its thought system and the Text is where that thought system is laid out. The Text is not only the Course's foundational volume, it is also an unparalleled spiritual tour de force. Many students, however, find the Text to be very hard going at times, and wish they had a deeper grasp of what they were reading. If this describes your experience, The Illuminated Text series will guide you, in detail, through each section of the Text, enabling you to gain a much deeper understanding of this spiritual masterpiece.

Please note: The Illuminated Text series is based on the Foundation for Inner Peace (FIP) Edition of A Course in Miracles.