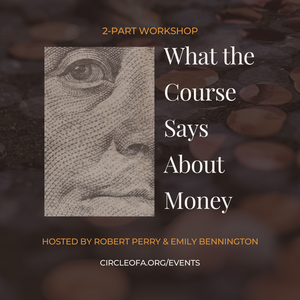 When you think of a spiritual workshop on the topic of money, what is the first thing that comes to mind?
The beauty of the Course on this topic is that you don't know what it's going to say. Its message is not part of the new age chorus. It approaches this topic from a whole different angle, one that is rooted in its vision of ultimate reality, yet one that also reaches into our everyday experience and speaks of things that we rarely acknowledge.
If you would like to learn a new approach to money – or even if you're just curious as to what the Course teaches on this topic – you will get a lot out of our workshop What the Course Says About Money.
Purchase includes: 

2.5-hour recording for your records.
Handout covering major themes and teaching notes.